I never thought I'd find anyone famous in my family and then found that President James K. Polk was my 3x cousin 5x removed. Okay, not a close relation, but exciting nonetheless!
James Knox Polk (November 2, 1795 – June 15, 1849) was the 11th President of the United States (1845–1849). Polk was born in Mecklenburg County, North Carolina. He later lived in and represented Tennessee. A Democrat, Polk served as the 17th Speaker of the House of Representatives (1835–1839) and Governor of Tennessee (1839–1841). Polk was the surprise (dark horse) candidate for president in 1844, defeating Henry Clay of the rival Whig Party by promising to invade and annex Texas. Polk was a leader of Jacksonian Democracy during the Second Party System. He's also known for invading and annexing roughly half of the Mexican Republic.
You can see his profile by clicking on his photo.
Welcome!
Welcome to the Andrist/Bunner-Lindy/Young & Rizzo, et al family tree.
Feel free to look around. I'm hoping you'll be able to help me fill in more of the blanks. If you have any information, please don't hesitate to contact me. I'm also looking for family photos and documents (birth, marriage, death certificates) and anything else of interest. I can scan anything you have into my computer and return the originals to you safely. Some of the photos I've included came to me as xerox copies...I'd love to borrow the originals and make nice scans of them.
Much of the detailed information here is related to living individuals and will not be viewable without a password. If you have relatives that you would like to view the full information in this tree or would like them to contribute to the site, please tell them to register for a password. The information provided is only seen by me.
Please let me know if you find any incorrect information.
Click here and it will take you to a list of people that I am having trouble getting information for, and a list of photos that I need help identifying the people.
Click here for a list of recent additions.
Click here for the
Lindy/Young family line.
Click here for the
Andrist/Bunner family line.
Click here for the Rizzo/DeGeronimo family line.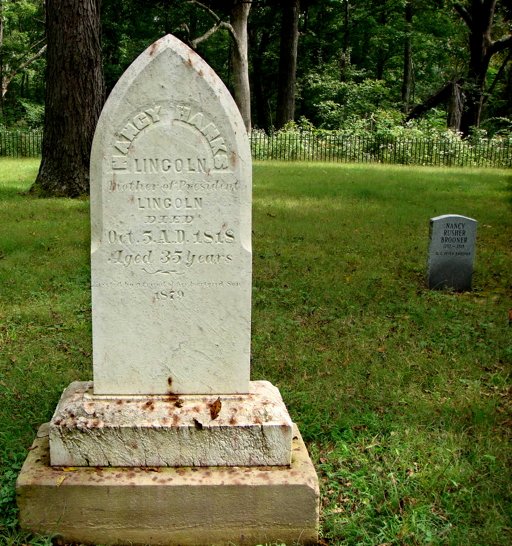 A sad bit of famous news: I found that my 4x great grandmother was Nancy Rusher Brooner. The Brooner family was actually friends of Abraham Lincoln's family in Indiana when he was about 9 years old. Unfortunately, Nancy Brooner came down with milk sickness, which comes from cows and pigs eating the milkweed plant, which poisons their milk. Then when human's drink the milk, they become very ill and die. Abraham Lincoln's mother, Nancy Hanks Lincoln, tended to Nancy Brooner while she was ill, until she, too, became ill with the sickness. Mrs. Lincoln actually died 2 weeks before Nancy Brooner. They are buried next to each other in Pioneer Cemetery in the Lincoln Boyhood National Memorial Park in Clay Township Indiana.
Click the picture to go to Nancy Brooner's profile.
Top 100 Surnames in My Family Tree